MedCalc - User-friendly statistical software
News and updates
February 14, 2017
Several other additions and improvements. See Update history.
January 4, 2017
Improved Recall dialog function.
Changed the methodology for calculation of the 95% confidence intervals for Positive and Negative Predictive Value to the "standard logit" method of:

Mercaldo ND, Lau KF, Zhou XH (2007) Confidence intervals for predictive values with an emphasis to case-control studies. Statistics in Medicine 26:2170-2183.

Updated translations and language files.
April 11, 2016
New: Comparison of multiple methods.
Plot versus criterion values (ROC curve analysis): added plot of Cost and Misclassification-Cost Term (MCT) against criterion values.
Several improvements in meta-analysis.
January 6, 2016
Added the possibility to perform several independent samples and paired samples t-tests, Mann-Whitney tests and Wilcoxon tests in one single procedure, see Comparison of independent samples and Comparison of paired samples.
Added the possibility to save (or append) results, graphs and spreadsheet data to Word documents (docx). Use the new
button or the Ctrl+W keyboard shortcut.
October 22, 2015
New: Probit regression (Dose-Response analysis)
August 14, 2015
Added Funnel plots in meta-analysis.
Added a Generic inverse variance method for meta-analysis.
June 2, 2015
New option in Kruskal-Wallis test: Jonckheere-Terpstra trend test.
April 20, 2015
Added the Correlogram as an option in Correlation table.
user-friendly, fast and reliable statistical software
easy to learn
one edition includes all features
more than 220 statistical tests, procedures and graphs

reference software for ROC curve analysis...
method comparison and method evaluation including Bland & Altman plot, Passing & Bablok, and Deming regression, ...
reference intervals
meta-analysis
see complete list

free updates
available with an English, Chinese (simplified and traditional), French, German, Italian, Japanese, Korean, Polish, Portuguese (Brazilian), Russian and Spanish user-interface (help file and documentation in English)
compatible with all contemporary Windows desktop editions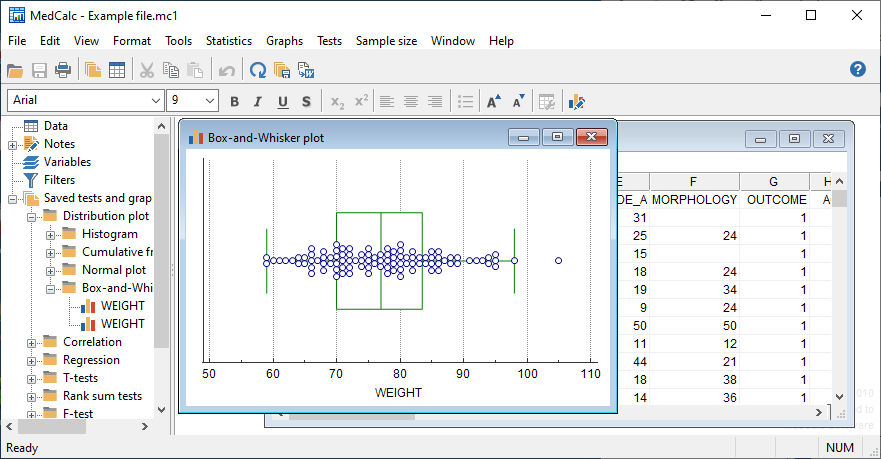 Licensing options
Lifetime single-user license
For individuals
Allows 1 person to use the software
Not transferrable
Lifetime
No monthly or yearly fees
445 USD
Single-user subscription
For individuals or organizations
Allows 1 person to use the software
Not transferrable
Subscription based
Yearly fee
145 USD/year
Site license
For organizations
Allows unlimited use within your organization
Subscription-based
Yearly fee
1780 USD/year
Network license
For organizations
Allows concurrent use by a limited number of users
Subscription-based - Yearly fee
Starting at 240 USD/year for 2 concurrent users
How to order